My first experience with Utoyup shapewear.
Like most people, I feel anxious about my body and I'm not confident.
I'm 5'4", 200 lb. Losing weight is a long-term process for me. I usually use shape wear to boost my self-confidence. it's a good choice.

I've bought 10 shapewears from Sh***llx, but they are too expensive! As a single mom I had to bring up my daughter, so I need to set aside more money for my 2-year-old daughter. I always hope Sh***llx could give me more discounts, but it didn't happen.
Meet Utoyup
About a month ago, I saw a promotional image for Utoyup on Google. I was so surprised to find that my favorite shape wear is 30% below market price! I was very excited, but I was also afraid of deception. (Scams are all too common, so watch out!) I cautiously clicked on Utoyup.com and checked out their product, which, as Utoyup advertised, was my favorite Compression Bodysuit Shaper with Butt Lifter, 30% below the market price! Live chat! I want to see if it's real. After about 10 minutes, I received the reply, and I was very happy, this increased my good impression! The customer service (Lisa) told me about their products very carefully (thank you, Lisa, you are very good). Lisa also needs to wear shape wear every day, and she shared a lot of shape wear knowledge with me. Maybe this is fate, I believe Lisa, I placed an order in Utoyup! I placed my order on March 31st in London, England, and I received the package on April 9th. Utoyup is registered in the United States, and the parcel was sent from GuangDong. I checked and found that This is the global garment manufacturing center.

A chance to win? I found a card in the package, a little surprise. Opportunity to win $100 as part of the bonus policy, three per week.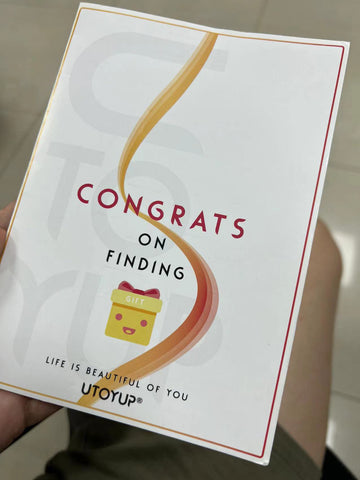 Try on Utoyup
I've always been insecure about my body, so I didn't have the courage to post pictures I tried on, hope you understand. Maybe I'll post it later.
Let me give you a general feeling.
The material which clothe used is very comfortable. Imagine the feeling of a cloud against your skin, no itching, no allergies. Since I had seen their product pictures before I bought them, I was very satisfied with the shape wear in my hands, at least in terms of material, it was almost the same.
Just the right amount of elasticity. I've had poor elasticity or suffocating tights that almost killed me (just kidding), and the elasticity of this suit fits me so well that it doesn't suffocate.
Hips up, hips up, hips up! You will obviously find that your butt will become more beautiful after wearing it! Plus it pulls in my stomach, so my waist is smaller and my butt is highlighted again! My best friend Joanne says I've become sexy and she thinks my ex-husband will fall in love with me again. Well, I don't want an irresponsible person to fall in love with me again.
Going to the toilet is very convenient! That's the most important thing. I don't want to take off my shape wear! The shape wear has an opening in the crotch, which I think is the wisest design, much more convenient than buttons!!
Price. Utoyup may not be as well known to other brands. I think, maybe this has a lot to do with Utoyup's use of promotion fees to make products. I think this is a very good thing. For consumers like us, I want to get better value for money. At least in 2022, the world starts to get a little bit messy and I need to leave more money for my daughter.
The commission. Utoyup now has a brand Ambassador registration channel, which is a great start! At the moment, their commissions are as high as 20 per cent, compared with 10 per cent for other brands. I asked the customer service why the commission was so high, and she replied that it was because they rarely put advertisements. The Utoyup team hoped that more people could benefit from Utoyup products in the turbulent year of 2022. I was really touched. I was divorced, now with a 2-year-old daughter, and my ex-husband took most of the assets, which made life difficult for us. I need to work more than 12 hours a day, and my daughter often asks her why you work so hard. I told her mom just wanted you to have a better life.
I joined Utoyup brand Ambassador and became a member of Utoyup. Now I spend 30 minutes a day to share my experience with my friends, hoping to help more people with my experience. Utoyup brand ambassadors allow me to earn income without being in front of a computer. I am very grateful to Utoyup, they are very friendly. I'm looking forward to every day now.

I feel inferior, I am introverted, I blame on everything in life,
I am confident, I am brave, I enjoy everything in life;
I believe that everyone is beautiful in their own way,
Of course, it all comes from Utoyup!

I love my daughter!
Silvia J.
14/4/2022